September 24, 2019
Gluten is the new Taliban, and other lessons from Natural Products East
For a lot of people, Friday the 13th is right up there with black cats and walking under ladders, but it's always been a lucky day for me. This year, I again rolled the dice, heading down to Baltimore for the day to check out Natural Products East. I'm very much a conference veteran after a few decades helping build businesses, but this was my first time at the Expo, and it was an absolute blast.
You know how sometimes you hit a farmer's market or a food hall and wish you could just have a nibble of everything that looks interesting? Imagine that, but on steroids—three endless convention hall stories of endless booths sampling everything from nut butters and CBD gummies to electro-stimulation machines, store-bought tamales and hybrid mushroom/beef burgers.
A few key takeaways from my day spent meandering the stalls and meeting a bevy of entrepreneurs and established brands all looking for the next-best thing…
Brand matters
Innovation can mean a lot of things to a lot of people—technology, supply chain, flavor profile, speed to market. I tasted no fewer than seven nut butters, all claiming to do something new or different. Which message matters, though, and how do you tell your story? Is it about how you process the cashews, where you source your almonds, who makes the product or what you stand for? And how should that come to life in your packaging? Standing out on shelf is one thing; getting there is another. Zeitgeist and good fortune are tough to plan for; the brands that are successful take the time to get "it" right in their mix of look and feel, and so should you.
Gluten is the new Taliban
Roughly one in 133 Americans suffers from celiac disease and must avoid gluten. And, prior to this decade, that was about the number of folks who did. But "gluten-free" has exploded on the national consciousness, for good or ill. In the past four years, that number has more than tripled, and now supermarket aisles far from Brooklyn or San Francisco carry hundreds of products shouting about their lack of gluten. Weight loss, flexibility, digestion, mood—just a few of the myriad benefits product hawkers swear as the result of removing gluten from your diet. There's a reason "therapy" is losing its taboo—no muscle is as strong as the mind, and what you believe—and how strong you believe it—can impact you as much as anything you eat, or don't. There's an obvious watchout with fads and trends—they end quickly. Grab a TV dinner and a wine cooler and we can talk about it some more. (Note: This column makes no claims on expertise in Afghan politics, but you get the point…)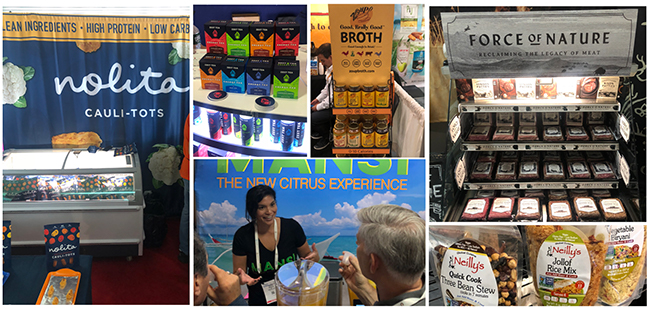 CBD is the new snake oil
I grew up in Humboldt and Mendocino counties, in Northern California, in the '70s; I think it's fair to say I've seen plenty of the weed economy. And, as far back as the late '90s, I worked for a hemp company, importing the material from Canada and India for a clothing line. It's an amazing plant—there's ample scientific evidence that smoking a joint can do wonders for sufferers of nausea, glaucoma, insomnia, and anxiety. And THC's non-psychoactive cousin hemp is a miracle plant—the first pair of jeans, the constitution, rope and sails for the war effort, interiors for luxury cars, fabrics for high-end fashion brands—all from hemp.
CBD and the multiple other cannabinoid extracts have become ubiquitous around the country, and a key ingredient in everything from cookies and drinks to topical salves and face masks. The products are becoming so widespread that this year's expo featured an entire Hemp Pavilion, and one vendor guaranteed his gummy would chill me out if I was anxious…and give me energy and focus if I was tired. As I said, I'm all over the use of this sustainable, renewable crop, but the claims are as vast as you can imagine. Regulation will happen, at some point, and that will include the need to verify and standardize. Jump in and monetize now, you bitcoin savants—things will change soon enough.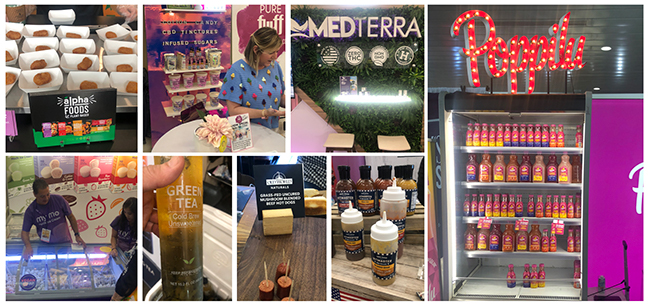 Inspiration is everywhere
If you walk by a national brand—easily recognizable, stocked in every major store, owned and produced by a publicly traded company—you don't necessarily stop and think about how much you're rooting for it to succeed.
But walk by a grandmother who has put her life savings into producing a line of pre-flavored adzuki beans, or a married couple who have bet their future on growing fish-flavored mushrooms off of clean pieces of crudely milled lumber, and try not to get involved or try and help. Earlier in my career I traveled around the UK helping entrepreneurs scale socially minded businesses, and nothing was more instructive on what it takes to build a business. It's impossible to wander these halls and not be moved by the creativity and chutzpah of these nascent products and the people who are putting their time and money on the line to make them real. Seeing that firsthand is a great way to get grounded, and realize how much we in the industry can play a big role in helping dreams come true. Definitely food for thought, or something to chew on…