March 24, 2021
A Look Inside Our Lutron Redesign
If you haven't heard, we recently won a GDUSA American Packaging Design Award for our work redesigning Lutron's light dimmer portfolio. In celebration, we sat down to hear the full story from the project team themselves—Chris Cook, Associate Creative Director, and Tina Mangan, Senior Client Director. Read on for the insider story on our award-winning packaging refresh.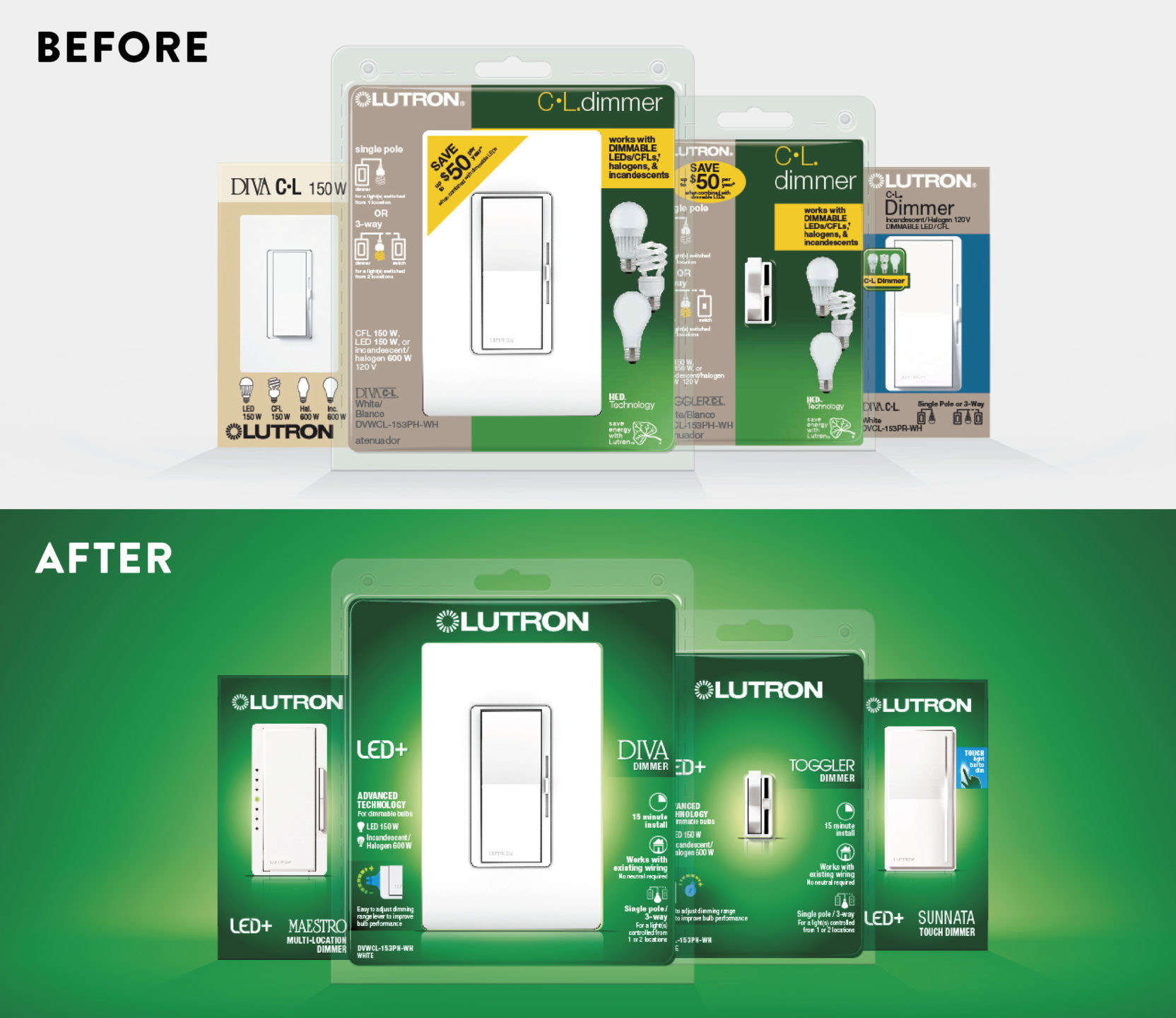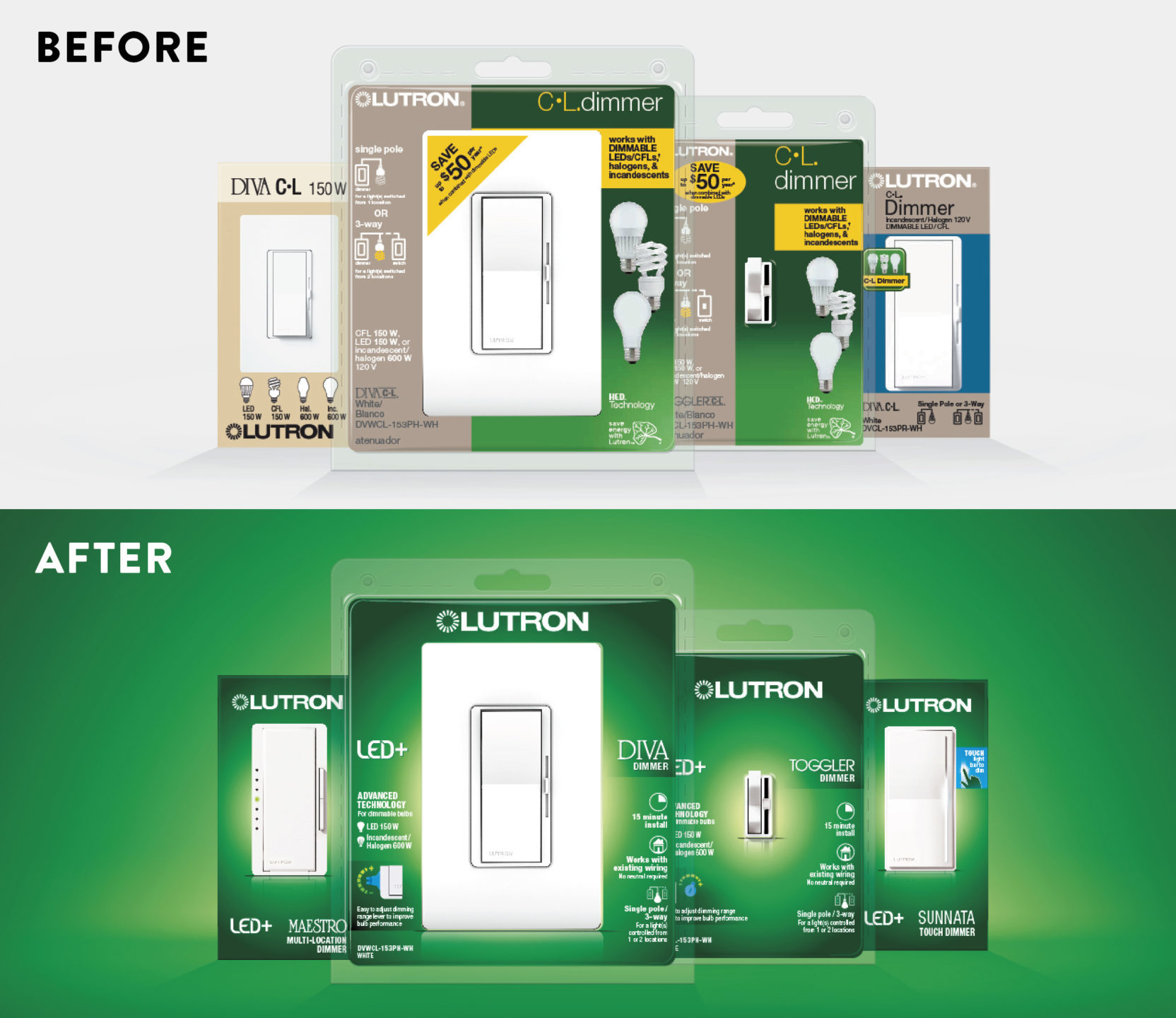 Q. What was the business challenge we were hired to tackle for Lutron?
Chris: We were hired to redesign Lutron dimmer packaging to help both the "pros"—professionals—and homeowners alike confidently make the right lighting choice. So, with a clear understanding of the audience and the retail journey, we set out to unify the portfolio of dimmers to elevate the brand awareness and improve shopability.
Tina: Our goal was to lift overall dimmer sales by 5%+ while improving the consistency between consumer and pro packaging.
Q. What CBX services did Lutron take advantage of to solve the challenge? What were the critical CBX process steps that drove our work?
Chris: We conducted stakeholder and consumer interviews, shopper's journey mapping, 10ft/5ft/2ft analysis, client workshops, equity mapping, category codes, portfolio architecture, and systematic design to meet our objectives.
Tina: We used design strategy to unlock the world of the homeowner and the pro. Understanding the two specific shoppers was critical to our design approach—we needed both homeowners and pros to be able to confidently make the right lighting choice. Then, we used the package design to demonstrate the relevance and desirability of the dimming product.
Q. What key strategic insights drove the work?
Tina: Family connections are critical, and there is a magic that comes with the ability to dim lights in your home to create new spaces. Lutron is a proud and premium lighting leader that values those special family moments. Our work needed to be the perfect equation of quiet confidence and the magic of dimming.
Chris: We used Lutron's five values—family connection, humanistic, design, quality & service, and technology—to develop both visual and verbal toolboxes. These differentiators and the resulting design thinking gave us a clear design brief and streamlined our process, leading to a final pack design and communication hierarchy that spoke to both the pros and homeowners.
Q. What was the outcome of the project?
 Tina: Through a test market in select stores, the qualitative feedback was overwhelmingly positive from pros, consumers, and store associates alike. We exceeded the original lift goal with a 7.5% lift in the LED Lutron dimmer test SKUs designed by CBX.
 Chris: In the end, we had created a cohesive design system across all dimming products that reinforced the brand's leadership position in the category. With clear language and placement of elements, we minimized confusion for pro and homeowner shoppers looking for the right product. Moreover, we improved shopability… and we won a GDUSA award.