July 07, 2020
A Design Strategy Lens On Cultural Change
As a Minneapolis brand design agency located in the Twin Cities, we view the current events in our community a little differently than the average person. Always seeking insights into people and culture, we look for patterns in behavior and human expressions to better understand cultural shifts.
In the aftermath of the damage that took place in Minneapolis and St. Paul upon the death of George Floyd, it's natural to search the news for signs of change and growth. Many people take comfort in the Mr. Rogers quote relating to "looking for the helpers." Volunteers have come out in droves to help clean and restore their neighborhoods. And something else started to emerge as well—art in the form of murals starting to appear on the boarded-up storefronts.
While some of these expressions understandably communicate anger and frustration, another message has started to emerge as well. Artists are creating large canvases dedicated to depictions of hope and love. Their vision of a rebuilt community is colorful and expressive, inclusive, and powerful.
These murals serve as the backdrop for creative gatherings as well. As the sun sets, DJs set up and dance parties are breaking out in the street. Art—whether through painting, music, or dancing—is a universal expression that plays a key part in healing.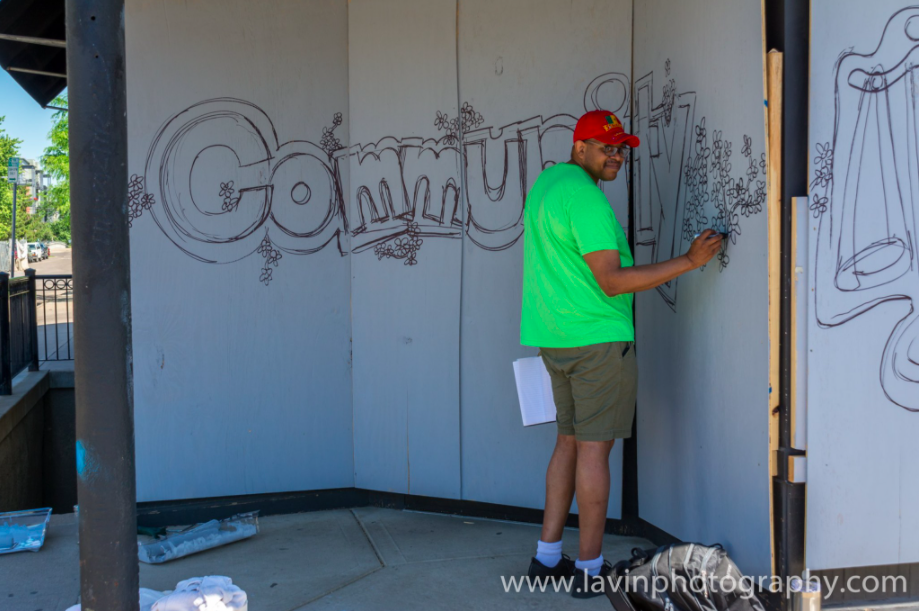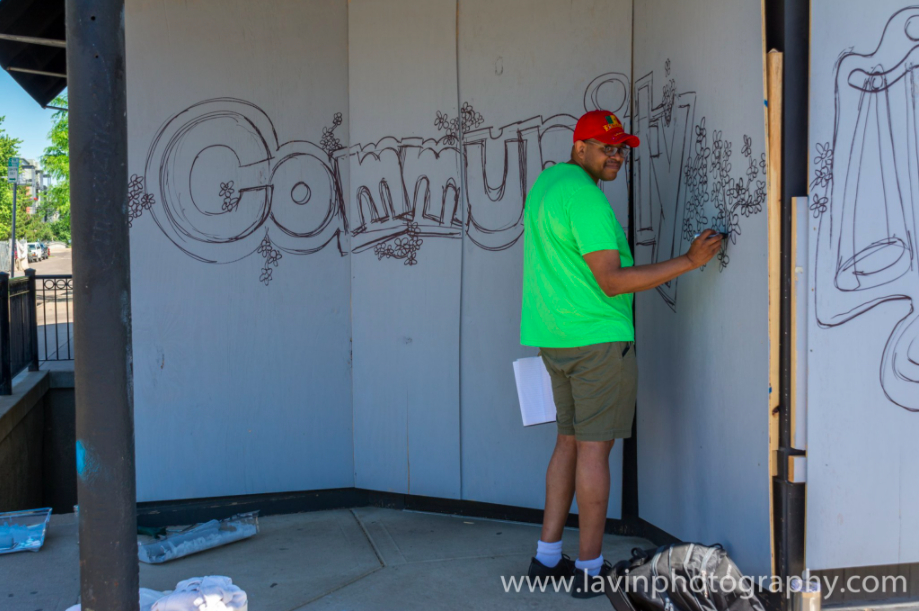 As described by the American Art Therapy Association (AATA), art therapy works "through integrative methods, [it] encourages the mind, body, and spirit in ways that are distinct from verbal articulation alone."
Many of these murals will eventually be replaced with restored storefronts and shiny new windows. However, their messages and aesthetic will forever be woven into the fiber of this rebuilt community
---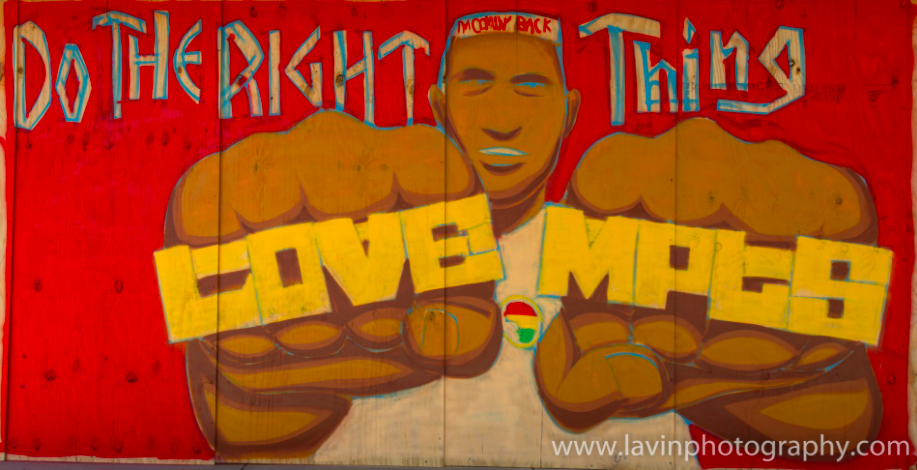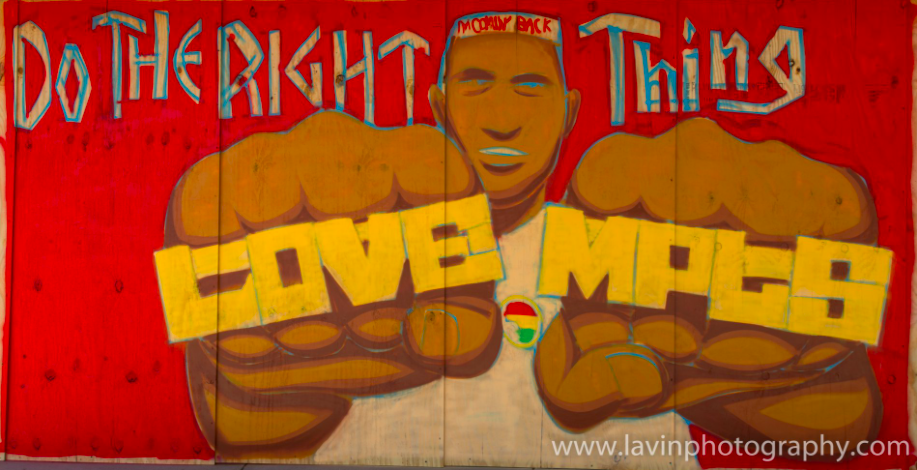 Spike Lee's 1989 film Do the Right Thing explored themes of race, conflict, and peace. This image is based on a character who wore a "LOVE" ring on his right hand and "HATE" on his left, as a symbol of our eternal conflict between right and wrong.
---


Messages of love and peace prevail, as does the theme of inclusivity as evidenced by the nesting yellow, black, and blue hearts that are blending into one another.
---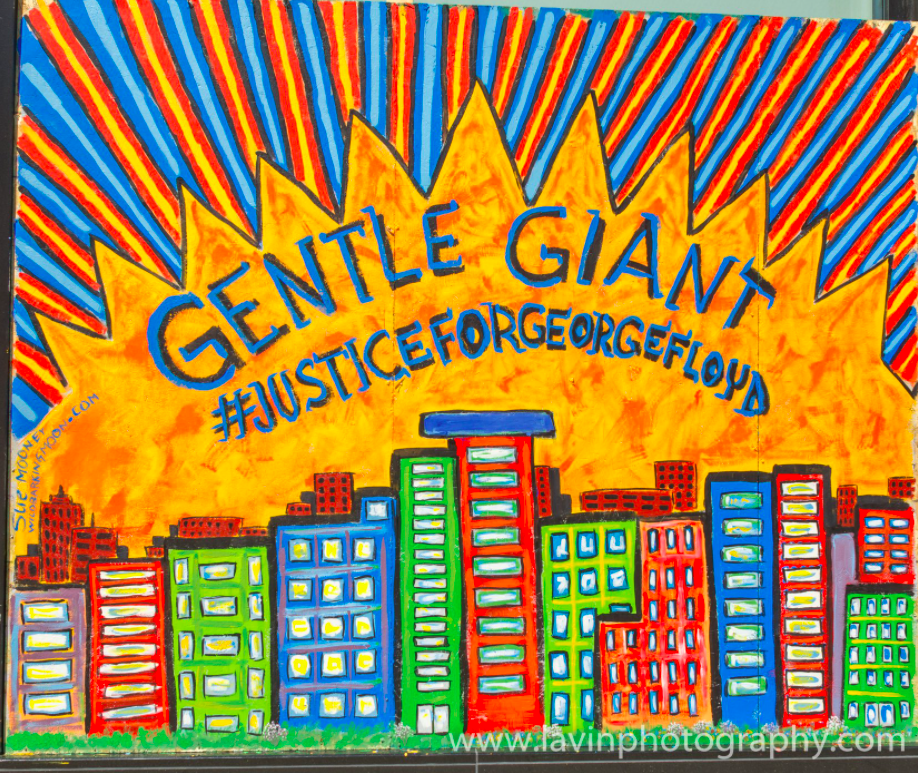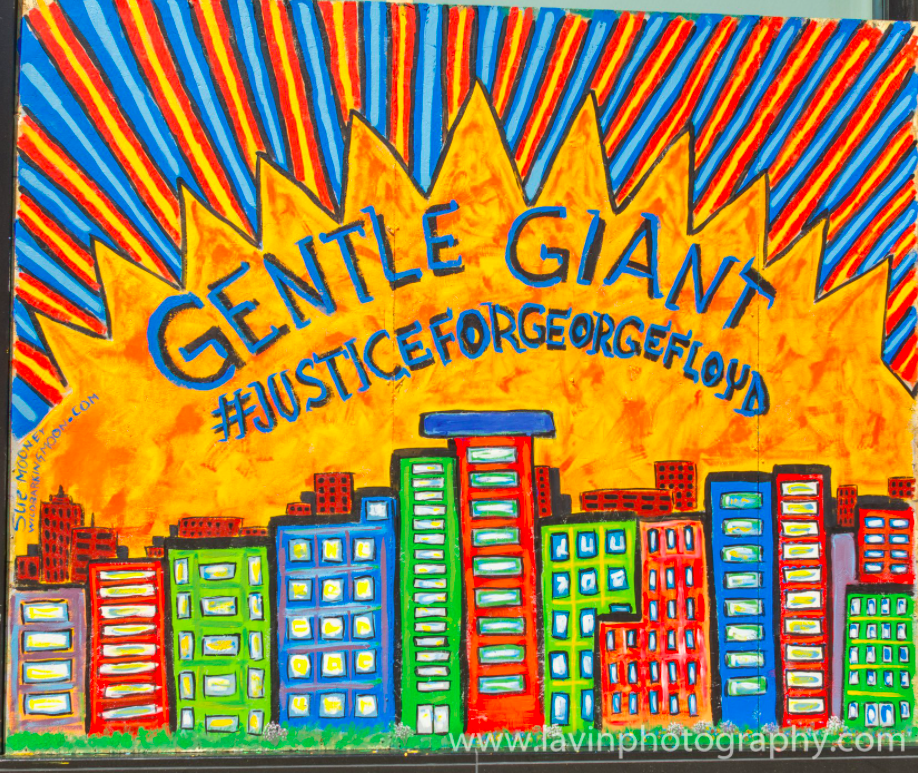 City on fire or city reborn? Appearing undamaged, the glow and radiating lines coming from the buildings of the skyline seem to suggest glorious light rising from the flames.
---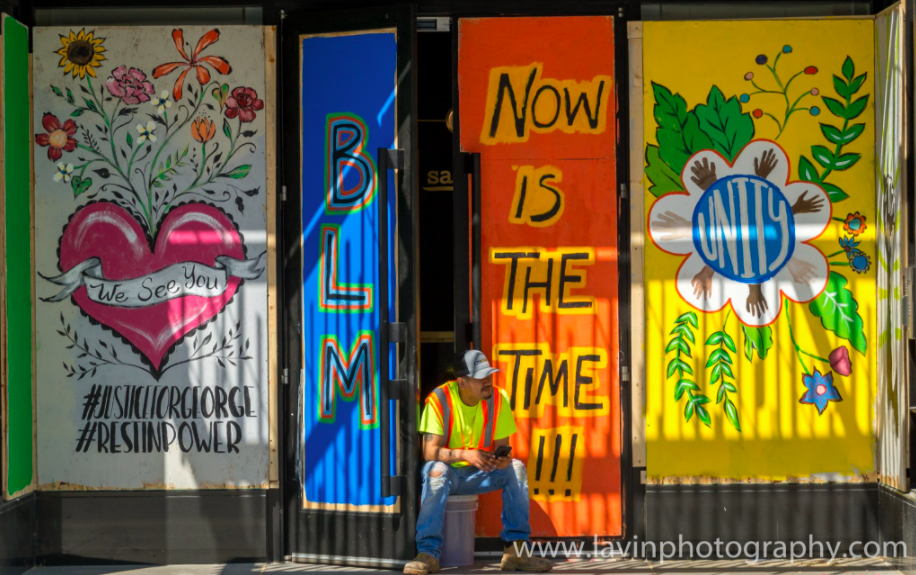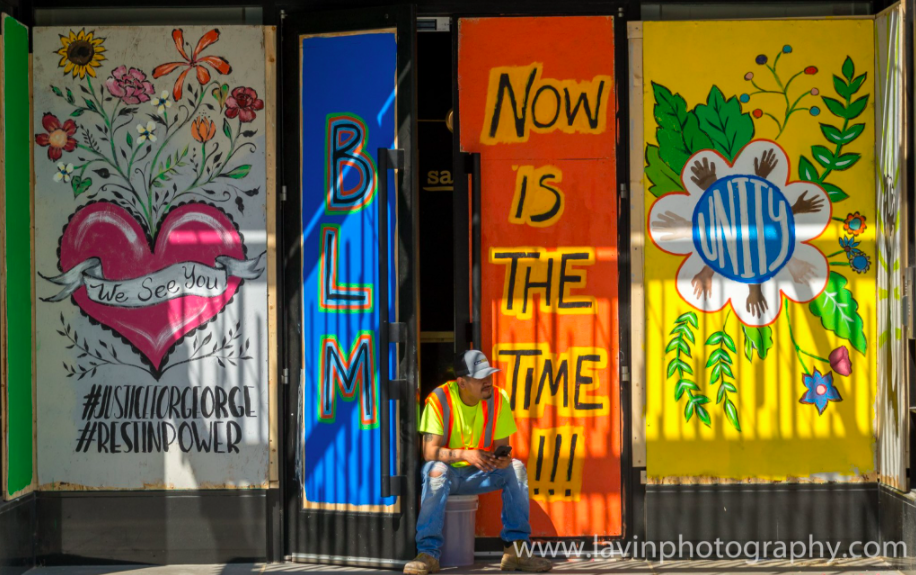 Energy and life are present in all of these messages. Each call for action is expressed with urgency and is accompanied by wildly blooming flora and bright, optimistic colors.
---


Inclusivity is evidenced again in not only the rainbow of fists raised in strength and solidarity but also the black and white birds whose wings point in opposite directions yet they share the same flight path.
---


The lotus flower is often used to represent self-regeneration and rebirth. Even when its roots grow in the dirtiest waters, the lotus produces a beautiful flower.
---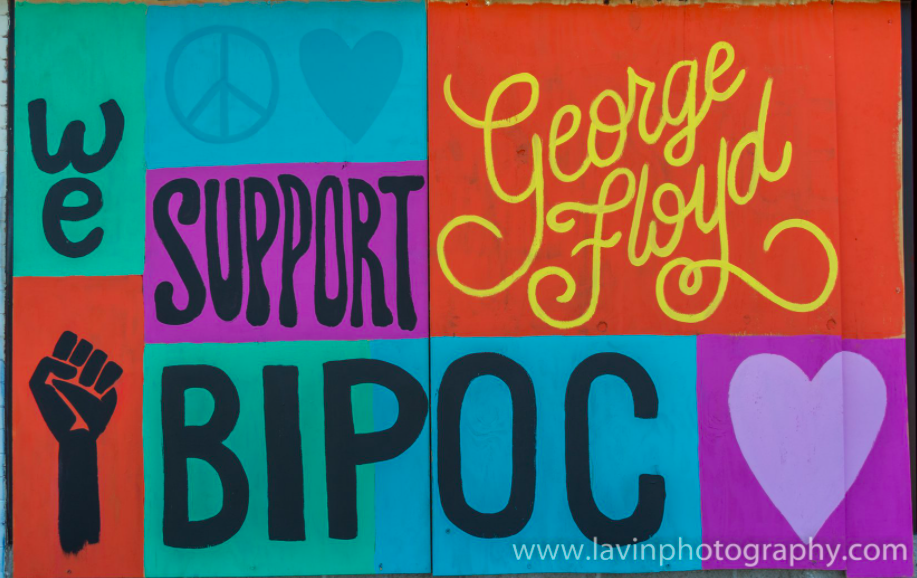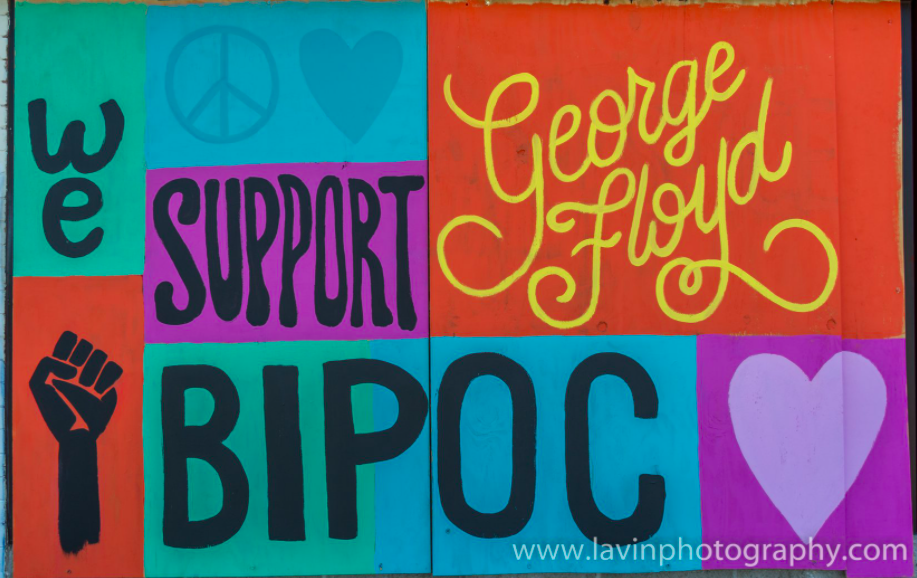 According to their website, "The BIPOC Project aims to build authentic and lasting solidarity among Black, Indigenous, and People of Color (BIPOC)."
---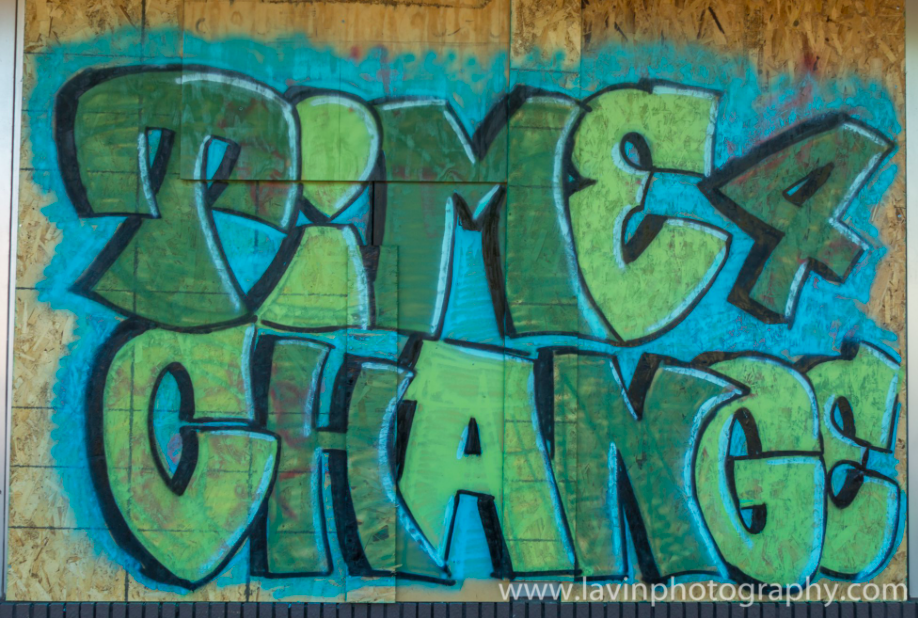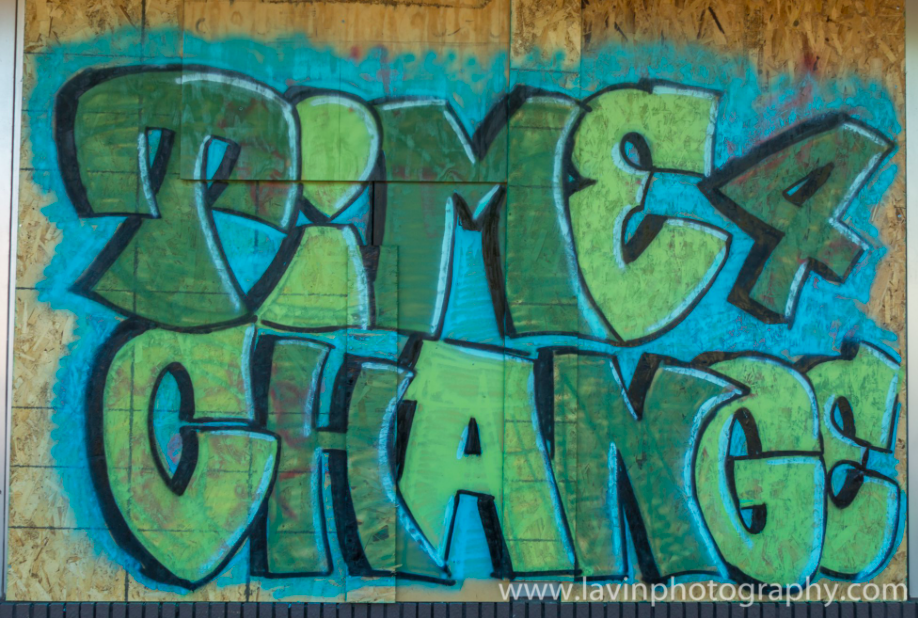 The message signals for change but the art form is familiar. This style of graffiti is known as a "throw-up"—multicolored bubble letters with a dark, outlined effect. This style originated in the 1960s and '70s in Philadelphia and New York.
Photos used with the permission of www.lavinphotography.com